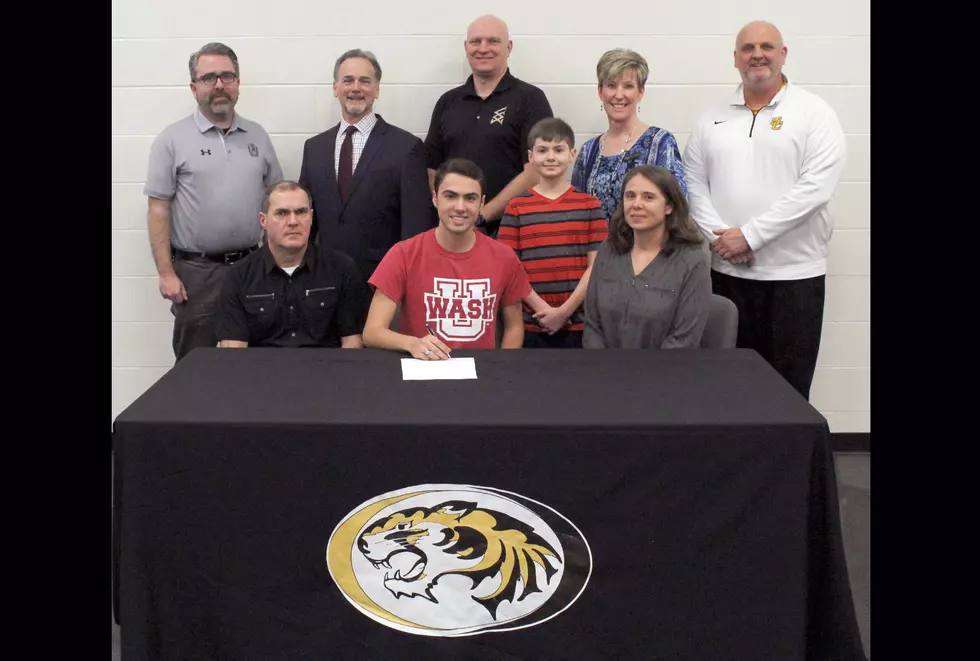 Toderscu-Stavila Signs With Washington University
Sedalia School District 200
Smith-Cotton High School senior Edward Toderescu-Stavila has accepted a scholarship to participate in band and the QuizBowl Team at Washington University in St. Louis.
Toderescu, the son of Petru and Stela Toderescu-Stavila, has lettered four times for the S-C Band, served as a Woodwind Captain, was a four-year West Central Missouri Music Educators Association All-District Band member and a two-year All-State English Horn alternate member of Missouri All-State Orchestra. He has earned "I" or superior ratings at MSHSAA district solo and ensemble festival the past three years, earning a Gold rating at the MSHSAA state solo and ensemble festival last year.
He also is president of the Missouri chapter of HOSA-Future Health Professionals, a member of National Honor Society and has qualified to compete in two events at the 2019 MSHSAA State Speech and Debate contest. In 2017, he led Smith-Cotton's QuizBowl team to a MSHSAA district championship.
Grant Maledy, S-C director of bands, said: "Edward is one of the most committed musicians I've ever worked with. His natural curiosity and commitment to excellence have helped him to be one of the most successful S-C musicians in recent memory. I'm confident he's destined to be very successful at Washington University and in all of his future endeavors."
Chris Becker, conductor and clinician at Washington University, said: "It's going to be a delight to have Edward involved with the music program at Washington University. The program is loaded with talented, smart kids. The group is going to be that much better because we are adding a great, young player. We're going to challenge him, keep him engaged and make this an experience he doesn't forget."
In the photo: Edward Toderescu-Stavila, a Smith-Cotton High School senior, has accepted a scholarship to perform in band and compete on the QuizBowl Team at Washington University in St. Louis. Seated with him are his parents, Petru and Stela Toderescu-Stavila; back row, from left: S-C High Principal Wade Norton, Washington University conductor Chris Becker, S-C Director of Bands Grant Maledy, brother Gabriel Toderescu-Stavila, private music instructor Tammy Spratley, and S-C Activities Director Rob Davis.