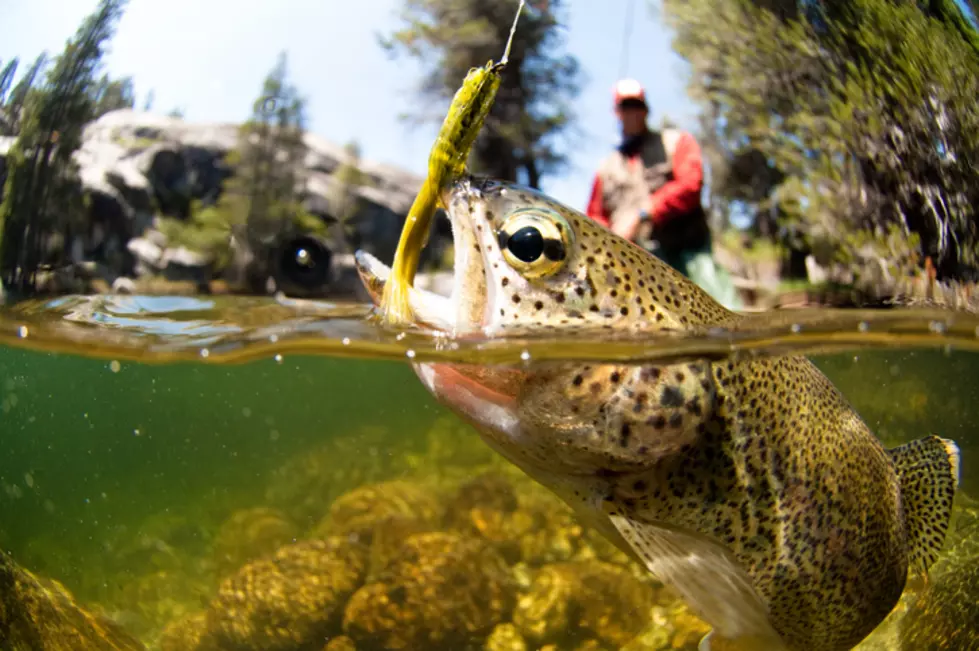 Wild Otters Causing Grief for Some Missouri Anglers
ANDY_BOWLIN/ThinkStock
Wild otters have been causing some grief for at least two trout business operators on Lake Taneycomo.
At Lillley's Landing Resort and Marina, brazen otters have been snatching freshly caught rainbow trout from the stringers of anglers fishing from Lilley's floating docks, the Springfield News-Leader reported.
And at Scotty's Trout Dock and Marina near Branson Landing, otters have climbed aboard boats and destroyed cushions and boat seats with their sharp teeth.
"They seem to have gone on a rampage the last couple of weeks," said Phil Lilley, owner of Lilley's Landing. "It's just one of those things that can happen at a place like ours. Our guests just roll with it, for the most part, though one guy did get pretty upset that they took his fish."
Lilley said he knows there's at least one family of five otters that patrol the water near his marina.
"They'll come up under the dock and leave fish carcasses behind," Lilley said. "When it gets hot in the summer, the smell can be pretty bad."
Lilley recently used a waterproof camera to record otters devouring rainbow trout that were on a stringer hanging from his dock. Customers can use a wire basket to hold their trout, but otters have been known to figure out how to open the top and grab the captive fish.
Lilley acknowledged some of his customers like seeing the creatures.
"Oh yeah, you don't see many otters in the wild," he said. "They're pretty spooky. They are very noisy, though, and even if you can't see them, you can hear them barking all the time down the lake."
So far, the otters are just an occasional nuisance at Lilley's Landing, and he has no plans to try to control them.
But at Scotty's Trout Dock, owner Lamar Patton said otters have caused hundreds of dollars of damage to his boats and the boats of customers. The otters also leave numerous piles of rank-smelling feces on the docks.
"Once they get on the boats, they can really cause damage," Patton said. "They'll chew up a boat couch and chair, tear the boat carpeting up and steal life jackets. I bought this marina 12 years ago and for a while, I didn't know what to do. Once they mark a boat (with their scent glands), otters don't give up."
About six years ago, the otters were causing so much damage that Patton applied for a nuisance animal control permit from the Missouri Department of Conservation. The permit allows him to trap and kill otters that were taking over his dock.
"It's just like Canadian geese that become a problem when there are too many of them," Patton said. "MDC will trap and remove those nuisance animals."
Over the past six years, Patton has removed several dozen otters, under the guidance of MDC. He uses a spring-loaded trap that's triggered if an otter walks through it on the dock. It's instantly lethal.
Because the otters are killed as nuisance animals, Patton said he's not allowed to sell the pelts or make any money from the animal.
One of the otters he trapped is now mounted in a display inside his trout-fishing store that visitors can't miss. He said many of his customers don't even know wild otters live in Lake Taneycomo and are often surprised how big they are.
"An otter can get 4 feet long and weigh 40 pounds," Patton said. "One female can have four or five pups, so you can see how their numbers could go up very quickly."
Wild otters, which are native to Missouri, nearly vanished in the state because of excessive hunting and trapping. MDC spokesman Francis Skalicky said an MDC study in 1980 found there were only 35 to 70 wild otters still living in Missouri, all in the Bootheel region.
Because they are a native species, MDC began a decade-long effort from 1982-1992 to restore wild otters across the state. Skalicky said 845 otters were released in 43 streams and in 35 counties during that restoration effort.
The White River drainage system — which feeds Table Rock Lake and Lake Taneycomo — received some of those otters.
"Since that initial stocking, a study in 2007 found there were more than 15,000 otters living in the state," Skalicky said. "Before that, their population was in danger of being extirpated (eliminated) from Missouri."
Skalicky said he knows of the otter problems that Scotty's Trout Dock has experienced, and acknowledges it's not a unique case.
"I do know of other fishing businesses that have had some problems with otters," he said. "We do have that nuisance animal permit they can apply for to help control the problem."