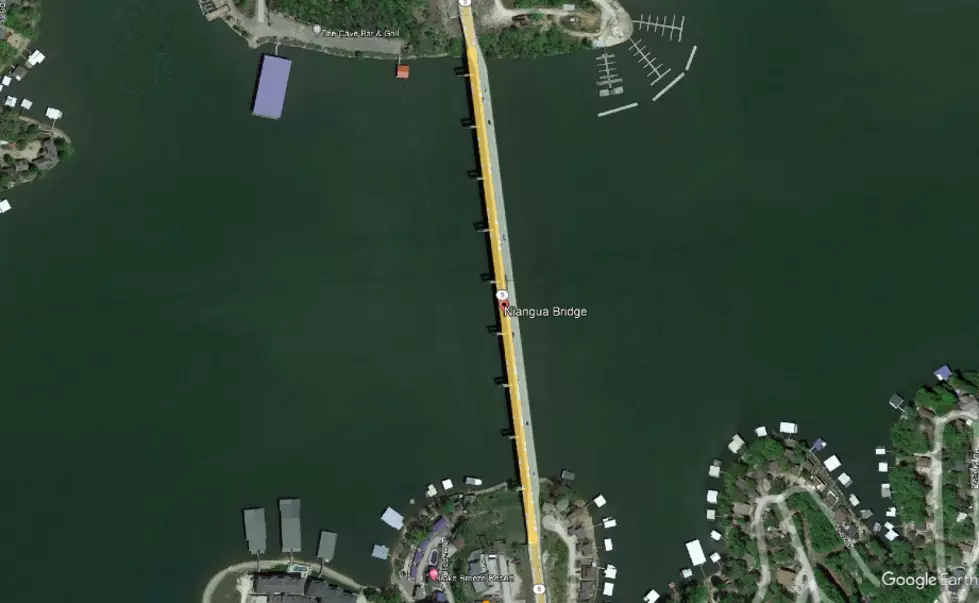 One Killed, Three Injured in Niangua Bridge Crash
Google Earth
One person was killed and three people were injured in a three-car collision that occurred Friday night in Camden County.
According to the Missouri State Highway Patrol, a northbound 2009 Volkswagen GTI, driven by 32-year-old Miles D. Aldrich of Camdenton, was on Missouri 5 on the Niangua Bridge just after 7 p.m., when he swerved to avoid a northbound 2010 Cadillac CTS, driven by 55-year-old Donna K. Hunt of Union. The front left of the VW struck the rear of the Cadillac. The front of a southbound 2008 Yamaha MC, driven by 54-year-old Drew E. Fairchild of Camdenton, struck the right side of the Cadillac. The Yamaha and Cadillac ran off the left side of the road and hit a concrete barrier. The VW traveled off the left side, hit the concrete barrier and returned to the roadway.
Fairchild, who was not wearing a seat belt at the time of the crash, was pronounced dead at the scene at 7:56 p.m., by Camden County Medical Examiner Crystal Lloyd. The body was taken to Allee Holman-Howe Funeral Home in Camdenton.
Hunt and her passenger, 55-year-old Craig J. Hunt both of Union, both suffered serious injuries and were transported to University Hospital by Mercy Ambulance, for treatment.
Aldrich suffered moderate injuries, and was released to jail after a medical evaluation. Aldrich was arrested by the Patrol at 7:50 p.,m., and charged with driving while intoxicated, causing the death of another, operating a motor vehicle in a careless and imprudent manner involving an accident, and two counts of driving while intoxicated causing serious physical injury.
Aldrich was taken to the Camden County Jail on a 24-hour hold.
This was Troop F's first fatality for December, and the 70th for 2022. There were a total of six Troopers on scene.
MORE: Some of the Memes & Tweets That Have Made Us Laugh (and Maybe Think)